Single Axle, 15,000-Lb. GVWR
This is our most popular size trailer for power utility companies. It features a single 15,000-pound electric-braked axle, dual 22.5" tires and wheels, leaf spring suspension, adjustable tongue (26' to 31' to 36' overall trailer length), Pintle coupler, (2) safety chains, 10,000-pound drop-leg jack, tool tray within the bed area, heavy steel treadplate fenders with mudflaps, rear bumper, sliding stanchions on the front and rear bolsters, electrical wiring enclosed inside a flexible "E-Chain" carrier (to prevent bunching and cutting of the wires when adjusting the tongue), and sealed rubber-grommet mounted lights (standard or L.E.D. available).
Options include air brakes, lockable toolbox, tire chocks, set of (3) tie-down straps with winch bar, portable rear light bar with cord, cable reel holders, galvanized finish, flatbed over rear tires (great for hauling transformers), longer tongue lengths, and other custom requests.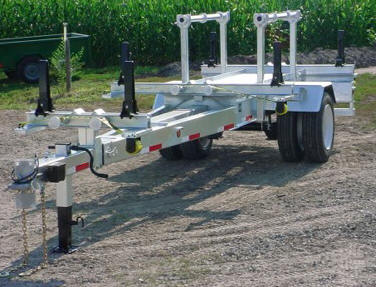 Model PS15E shown with optional galvanized finish, cable reel holders, tie-down straps, and raised steel mesh deck (over rear tires)