M2200 Wagon for Double 1,000 Gallon Tanks
The M-2200 is a rugged wagon designed for severe service and high capacity. It features 5th wheel steering with a 2" diameter king pin, 8-bolt hubs, 16.1 x 11 wheels, a fixed track (86"), two safety chains, 4 x 8 axles, rocking front bolster, 2.50" diameter type 1144 spindle shaft, and a 4" diameter structural round tube reach pole. Options include: brakes, lights, extra axle clearance, extension tongue, cushion tongue, wider tracking, rubber torsion axles, several wheel/tire combinations, and tank access ladders.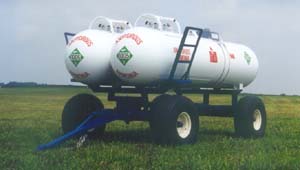 M-2200 shown with 16.5L x 16.1 tires, double 1000 gallon tanks, decals, water bottles, and optional ladders.