LB2900 Lowboy Wagon for Twin 1,450 Gallon Tanks
The original low profile wagon with big capacity for NH3 application!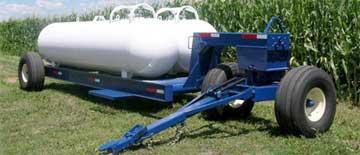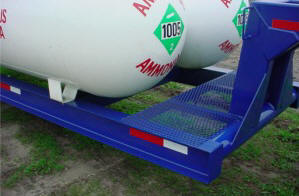 This wagon features a low 27" tank platform for easy access to the tank valves and great stability in the field and on the road. The front axle is designed to turn under the frame, making it very maneuverable and reducing frame stress. Your hoses and valves can be easily routed through the gooseneck frame for safe use and storage. We equip the front of the gooseneck with (3) 1-1/4" schedule 80 couplings to give you plenty of options to route plumbing, valves, and hoses.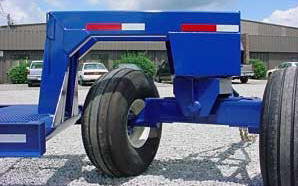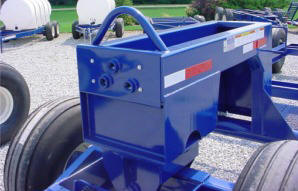 Standard features include a massive semi king-pin turntable, 10" wide-flange beam construction, 108" rear axle track, 60" front axle track, 8-bolt hubs, 16.1 x 14 wheels, safety chains, and a rocking front axle.
Options include 120" rear axle track, lights, 2-wheel hydraulic surge brakes, extendible tongue with spring lift assist, 16.5L x 16.1 tires, 21.5L x 16.1 tires, a front walkway, side platforms, and customized tank supports for various NH3 tank mounts and 385/65R22.5 Super Single Tires.