Keep on moving.
Operators cannot afford downtime. Duo Lift Fuel Hauler Trailers are manufactured with the right standard and optional equipment to ensure you get to locations quicker and fuel faster.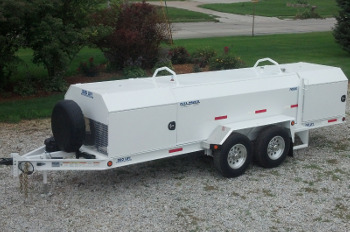 Photo - Model: FH990D with Optional Front and Rear Enclosure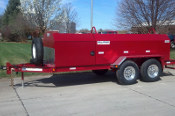 FH990D with Front Enclosure and With Optional Colors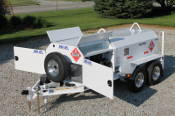 FH750D with Front Enclosure & 100 Gallon D.E.F. System, Spare Tire & Carrier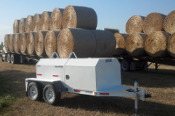 FH500D with Front Enclosure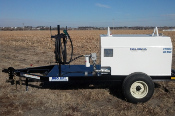 FH500 Off Road, 2015 Model with 12V 25 GPM Pump System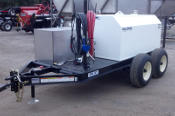 FH750 Off Road with 100 Gallon D.E.F. System and 12V 25 GMP Pump System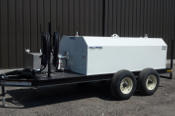 FH990 Off Road with 50 Gallon D.E.F. System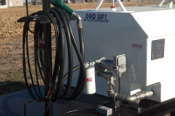 12V 25 GPM Diesel Pump System with 10 Micron Filter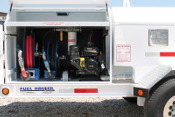 Front Enclosure, Gas Powered Diesel Pump, Diesel Fuel Reel , Diesel Fuel Meter, DEF Reel and DEF Meter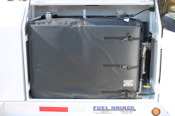 DEF Heater Blanket on 100 Gallon DEF Tank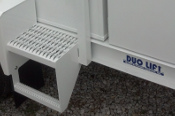 Diesel Fill and Access Step for Rear Enclosure Trailers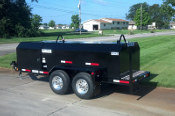 FH990D with Black Color Option
Models:

Off Road

DOT Compliant

FH500

FH500D

FH750

FH750D

FH990

FH990D

GVWR:

7,000 Lbs.

14,000 Lbs.

14,000 Lbs.

TANK:

500 Gallons w/Baffle

750 Gallons w(2)/Baffles

990 Gallons w(3)/Baffles
The rugged design features: HD Trailer Frame w/Tandem Axles, Underslung Slipper Springs; White Hip Roof Tank, Emergency Fuel Shut off Valve, 3/8" Safety Chains, 2-5/16" Adjustable Ball Coupler , Bolt-On Hose Stand, Tongue Jack, Rear Platform and Grab Handle.
Optional Features: Blue, Green, Red or Yellow Paint, Bolt on 3" Lunette Eye, Bolt on Clevis Hitch, 50 or 100 gallon D.E.F. Package, DEF Hose Reel, 12 Volt Battery Kit, 35' Diesel Hose Reel, Fuel Meter, Deduct Tank for Trailer Only, D.O.T. Compliant Package, Spare Tire & Carrier, Gooseneck Hitch -25 GPM 12 V Pump w/25' Hose, Swivel & Auto Shut-off Nozzle, 40 GPM Gas Engine Power Pump, Rectangular Tank, Hip Roof Tank, Front Enclosure, Aluminum Diamond Plate Gravel Guard.
D.O.T. Compliant Package Includes:
Hwy Rated Hubs, Wheels & Tires, Four Wheel Electric Brakes, Front Coated H.D. Flat Top Fenders, Splash Guards, Conspicuity Tape, Highway Lighting Package and Rear Trailer Bumper according to federal code CFR49.
Presenting the 1st USA D.O.T., Transport Canada, and UN Certified On or Off Road Diesel Fuel Trailer with Optional DEF Tanks
Paul Hottovy, Director of Sales - Ag. & Industrial Equipment